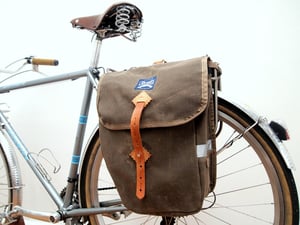 $

295.00
*IN STOCK AND READY TO SHIP! Handmade in the USA with love...
Our roll-up style double bicycle panniers crafted out of sturdy, 19 oz waxed canvas. -- in light brown #10 waxed canvas.
Perfect for commuting and shopping. And they roll-up so they're out of you're way when empty. Made from highly water-resistant waxed canvas and waterproof nylon oxford.
All handmade by us, with great attention to detail. We go to great lengths to ensure that your bag will last for years to come. We finish every seam (no fraying edges) and "burn and smear" every loose thread.
How they attach to a rack:
- The bags sit on a rear rack and attach with an easy on/off, side-release buckle and webbing system.
* See photos and description here: http://laplanderbags.blogspot.com/2010/08/new-rack-attachment-system.html
- A cinch down, rubberized hook attaches the bags to bottom of your rack (look at your rack to make sure you have a place for a hook!) We make the hooks ourselves, from recycled DT-Swiss spokes.
The hooks are secured with parachute cord that cinches down at the top of the rack with a gear-lock fastener - so your bags don't bounce around, like with bungee hooks...It is very a unique and effective system of keeping your bag in place!
Other features:
- Adjustable peg-style closure
- Cinch-top sac and inside of flap made from waterproof, PU-coated nylon oxford.
- Re-enforced bottom, sides and back.
- Inside flap pockets with velcro closure.
- Leather hand carrying strap, plus metal d-rings to attach a shoulder strap. **shoulder strap sold separately.**
- Handle doubles as integrated u-lock holster (adjustable width for larger locks)
- Rear reflective 3m stripes and rear-light tab.
- Profiled design to reduce "heel-strike"
Materials:
- Strong and durable waxed canvas is very water resistant and natural/non-toxic. Water will easily bead on the fabric. The waxed canvas fabric we use is of the highest quality, made locally to us in the USA by an very old family run business.
- We meticulously hand cut and finish all the leather on these bags. We use 5 oz., vegetable-tanned leather. It's very sturdy stuff, and has been oiled and water-proofed by us. It will age beautifully with use.
- UV resistant, heavy bonded polyester thread won't fray or rot in the elements.
Size:
- Each bag is 10" wide at top, 8" wide at bottom, 5" deep x 13" high - not including the top cinch bag which can add up to 3" if filled.
The bags are approx. 600 cubic inches each (not including the top cinch sac).
More photo's are available at http://www.flickr.com/photos/laplanderbags/sets/72157624377724292/