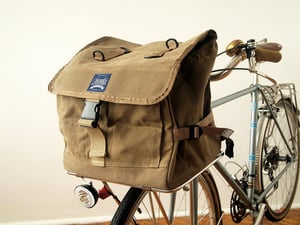 $

245.00
Get more out of your porteur rack! This is a very roomy bag for your porteur rack that quickly converts into a handsome backpack. Its made from 100% natural, 19oz. waxed canvas fabric and stays water tight in the heaviest rain storms.
Orange wool plaid liner (shown) is now out of stock, sorry!!
Ask us about our liner fabric choices....
*The bag in this listing is designed for the Velo-Orange porteur rack. If you would like a bag made for another porteur-style rack, then do not purchase this listing. Instead, please contact us so we can make a you custom listing (prices may vary).
Like all our bags, it is made completely handmade, here in our two-person studio, with the utmost care and attention to detail. We finish all seams (no raggedy or fraying edges) and burn and smear every loose thread. Quality of workmanship is our number one commitment!
Bag features:
- Sturdy, water-resistant waxed canvas fabric (with additional waterproof-membrane in the flap)
- 2" Seatbelt-webbing shoulder straps that stow away into their own pocket
- Double side-release buckle/webbing rack attachment, with rear strap for extra stability.
- Two large front pockets
- Four internal pockets, including a mini u-lock pocket and a strap and sleeve for a laptop.
- Top flap dee-rings for lashing down gear; compression straps for stabilizing your load.
- Re-enforced/padded back and bottom panel.
- Two-way top YKK zipper closure.
- Outer dimensions: 15"high x 14"wide x 10"deep.
- Different pocket flap lining fabrics available, orange wool plaid (shown) is now out of stock, sorry!!